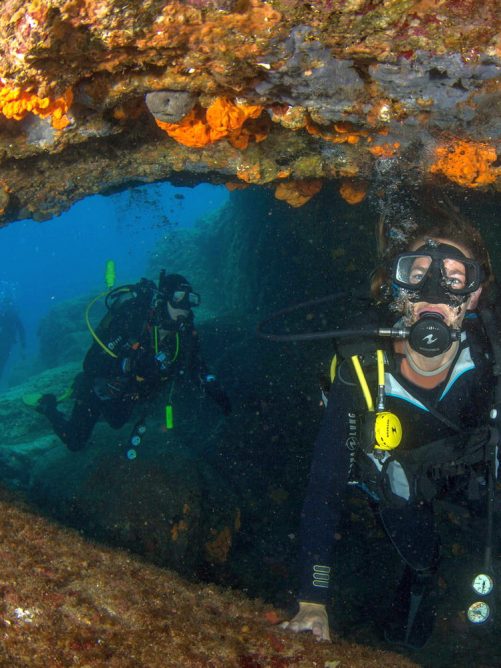 "Mononaftis" (lonely sailor) is a huge rock erupting from the sea approximately 50 meters away from the shore. This area offers the greatest number and variety of fish and plants around Agia Pelagia in Crete.
| | Beginners | Advanced |
| --- | --- | --- |
| Suitable for: | ✓ | ✓ |
| Depth: | 18m | 32m |
As the largest of our dive sites, 'Mononaftis' can offer a number of different dive tours and dive objectives. The maximum depth varies between 18 and 35 meters. For this reason it is possible for everybody, experienced as well as inexperienced divers, to enjoy the marine beauty of this area.
During these tours we can chose to pass along an amazing reef, through small canyons and big holes, discover small caves and investigate the many cavities under the rocks.
The rich aquatic life to be found in Mononaftis includes groupers, octopus, moray eels, schools of salemas, banded and saddled bream, stingrays, sea rabbits, red and black scorpion fish, sponges, sea anemones and many pretty shells. Two groupers of one meters length have their territory in this area as well.
One dive tour in particular leads us along the reef at a depth of 30 meters and then back to the shore. Here the divers can regularly meet large schools of barracudas, with whom you can swim or even animate into turning large sweeping circles around you. This way everybody – fish and divers – can satisfy their curiosity.
During the night dives at Mononaftis we can meet and interact with octopus, see moray eels and conger eels, cuttlefish, squids, shrimps, snappers, crabs, even sea horses and a special, very beautiful kind of night-active sea anemone.
…
* our diving locations: El Greco Cave – El Greco Reef – Stavros Cape – Dia's Rock – Neptune's Rock – Mononaftis – Lygaria – Big Anchor – Blue Cave – Daedalos – Shipwrecks – Messerschmitt Wreck – Dia Island