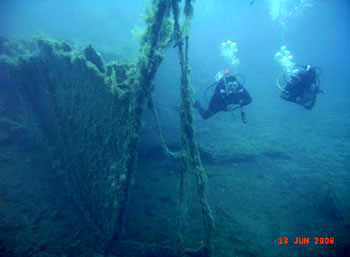 The boat ride (aboard "Petros-Iro") takes about thirty to forty minutes.
"Dia's wreck" in the Agrilia Bay, in the South side of the island, is one of the highlights of the area. She is a French 20m long wooden and steel cargo boat, lying at a depth of between 12-18m.
The story goes that she was submerged some 130 years ago when the high tide engulfed her, thanks to her captain's somewhat serious misjudgement in anchoring!
The bow lies at 18m, the stern being as shallow as 12m.
A great deal of marine life has made the wreck their home over the years, including groupers, small fish, sponges and a wide variety of shells.
This wreck is regarded as a dive suitable for all levels of divers, due to open plan of the wreck, and little, if any, current.
There are more nice diving sites around Dia Island, especially in the North and the East side but the two little islands, which are next to it, are also amazing. The bottom's morphology is fantastic and the great visibility leaves the divers breathless. In the North-East side we meet big ocean fish and groupers but the divers are surprised by the huge rocks and the little caves which there are along the vertical walls. In the South side we meet mainly schools of small fish and huge sponges whilst the depths are shallower.

The sure is, that the divers will enjoy an unforgettable diving day, as the island's wild landscape will accomplish the scenery's fascination in between the dives.
more diving locations: El Greco Cave - El Greco Reef - Stavros Cape - Mononaftis - Big Anchor - Blue Cave - Daedalos - Messerschmitt Wreck - Dia Island