Diving with Nitrox increases your safety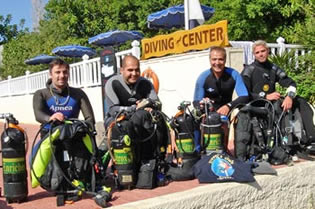 Diving with Nitrox has nothing to do with deep diving. It is a gas in which the percentage of oxygen is higher than in air.
Therefore Nitrox significantly reduces the nitrogen saturation during a dive. Because of that, it increases the safety and furthermore the use of Nitrox allows longer bottom times.
For the safe use of NITROX you have to enroll in a course. As a certified diver you can take your Nitrox diver qualification at "Divers Club Crete" in a short time. EANx32 and EANx36 tanks are ready for use at any time.
Nitrox courses are available from PADI and IANTD.
PADI EANx Diver
Welcome to one of PADI's most popular specialties – the PADI Enriched Air Diver course. Diving with enriched air nitrox lets you safely extend your no stop time beyond the no decompression limits for air. Diving with enriched air means safety and more time underwater.

To qualify for the PADI Enriched Air Diver course, a diver must:
1. Be certified as a PADI Open Water Diver or have a qualifying certification
from another training organization.
2. Be 15 years of age or older.

The PADI EANx Diver course is designed to qualify recreational divers to use enriched air ("nitrox") for no stop recreational diving. The program addresses the use of enriched air with 22 percent to 40 percent oxygen, with emphasis on enriched air with 32 and 36 percent oxygen.
The PADI Enriched Air Diver course emphasizes the theoretical and operational considerations involved with enriched air diving. Mastery of the learning objectives is demonstrated during knowledge development assessment, practical application sessions and 2 open water dives.
Training dives may be conducted at night for divers who have completed the Night Adventure Dive or the first dive of the PADI Night Diver specialty course, or have any other night diving qualification (at least four dives in total) experience.
IANTD EANx Diver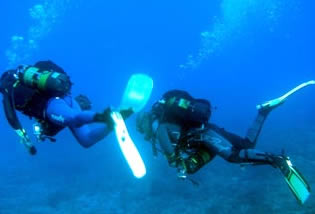 This program provides recreational divers a safer breathing medium for enjoying dives in 12 Meters to 39 meters depth range. The divers may elect to dive the mix on EANx tables or conservatively using their dive computers or air tables with an added diver safety margin. The IANTD Nitrox Diver certification is adaptable to being taught as a single program or by combining it with a variety of advanced or specialty diver courses.
Confined Water Time: 0 minutes
Number of Dives: 2 dives
Bottom Time: 40 minutes minimum
IANTD Text: Enriched Air Nitrox Student Manual and Workbook
Please contact us for our Special Prices and details
IANTD Advanced EANx Diver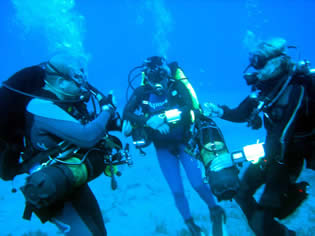 This program is designed to extend the divers knowledge with O2 mixes of 22 to 40% and up to 50% for decompression. This course continues to develop and perfection your diving skills and provides a better understanding of the nitrox diving concept.
Confined Water Time: 60 minutes
Number of Dives: 4 dives; 2 dives between 30 and 39 Meters
Bottom Time: 120 minutes minimum
IANTD Text: Advanced EANx Student Manual and Workbook
Please contact us for our Special Prices and details