Boat diving tours with our cruising boat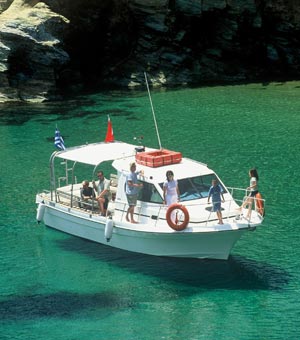 Enjoy daily diving-tours on our new cruising-boat along the North coast of Crete and to "Dia island"! This is a 10 m long and 3.5 m beam, especially constructed diving boat. It has a capacity of 16 divers and it is designed to offer modern comfort and guarantee for a safe and enjoyable trip for our divers.
Powered by an IVECO AIFO inboard turbo-diesel engine, the boat travels quickly to different destinations every day to a maximum distance of 20 miles (for daily tours from 10:00 to 16:00).
All of the trips are navigated along the North coast of Crete close to the shore, where we can easily anchor and dive in many different dive sites. Using this boat, we visit the "Dia island" during a daily trip from 10am to 4pm, where we dive in 2 different dive sites. Depending on the weather, there is the chance to dive in 2 different wrecks and many different reffs!
Boat diving tours start from the shore, just in front of the dive centre. Meeting time is at 09:15 in the morning, departure time at about 10:00 with anticipated return time at about 16:00.
Please contact us for our Special Prices and details
Boat diving tours with our speedboat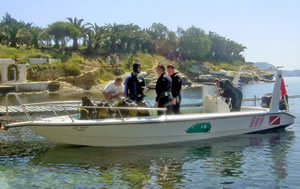 Our speedboat measures 7.5 m length and is equipped with a brand new 4strokes Mercury 150HP outboard engine. The boat's capacity is 12 divers.
The speedboat departs twice a day to different local diving sites.  The first dive of the day is scheduled at 10:00 and the second dive at 13:00.  All divers must be at the dive centre 30 minutes before departure to complete all pre-dive formalities and attend the diving briefing.
Don't miss our adventures night-dives! Naturally, departure-times for the night dives are time of year dependent and will be specified to you at the time of booking.
Please contact us for our Special Prices and details